What is the differences between SSAW and LSAW?
1) LSAW steel pipes and SSAW Different in name:
LSAW steel pipes is an abbreviation of Longitudinal Submerged Arc-Welding. Its welding line is straight.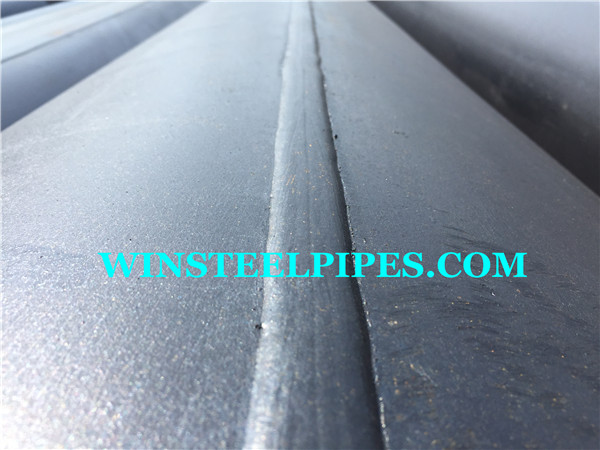 SSAW steel pipe is short of Spiral Submerged Arc-Welding, also called HSAW pipe. Its welding line shape like a helix.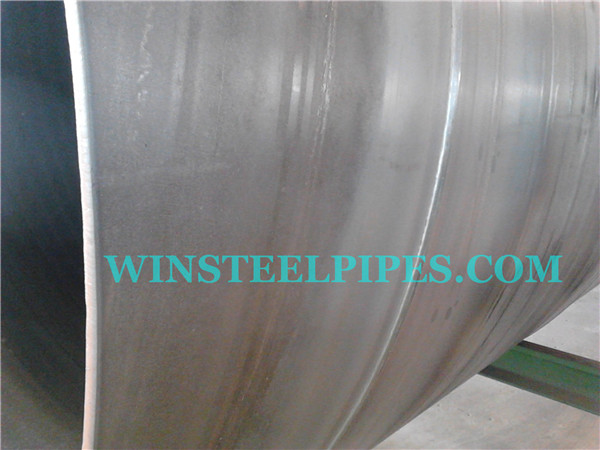 2) Different in manufacturing process:
LSAW steel pipes is taking the steel plate as raw material, mold it by the molding machine, then do double-sided submerged arc welding. Through this process the LSAW steel pipe will get excellent ductility, weld toughness, uniformity, plasticity and great sealing.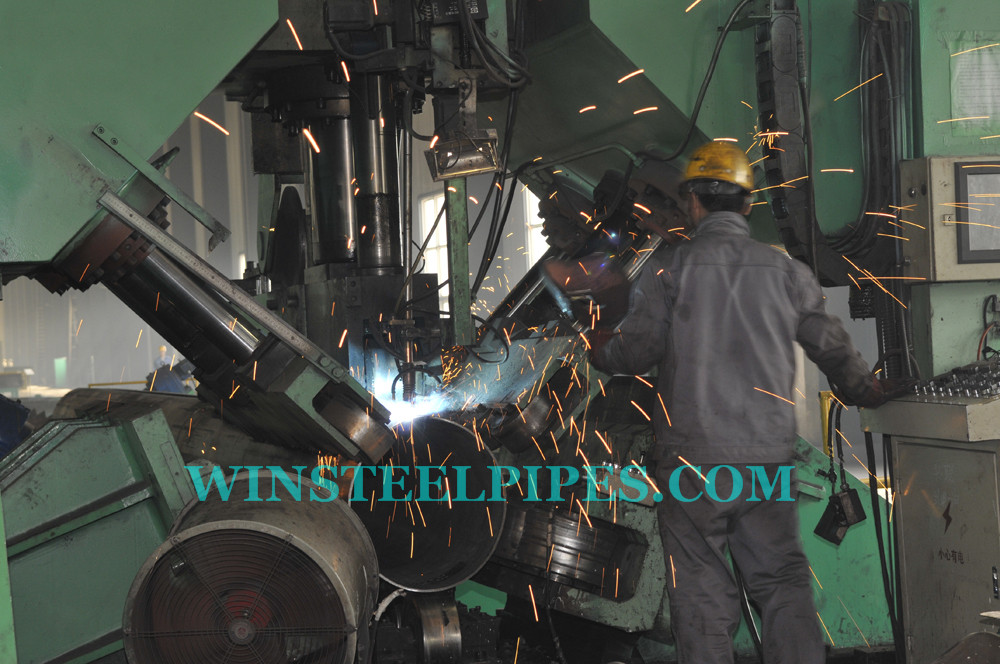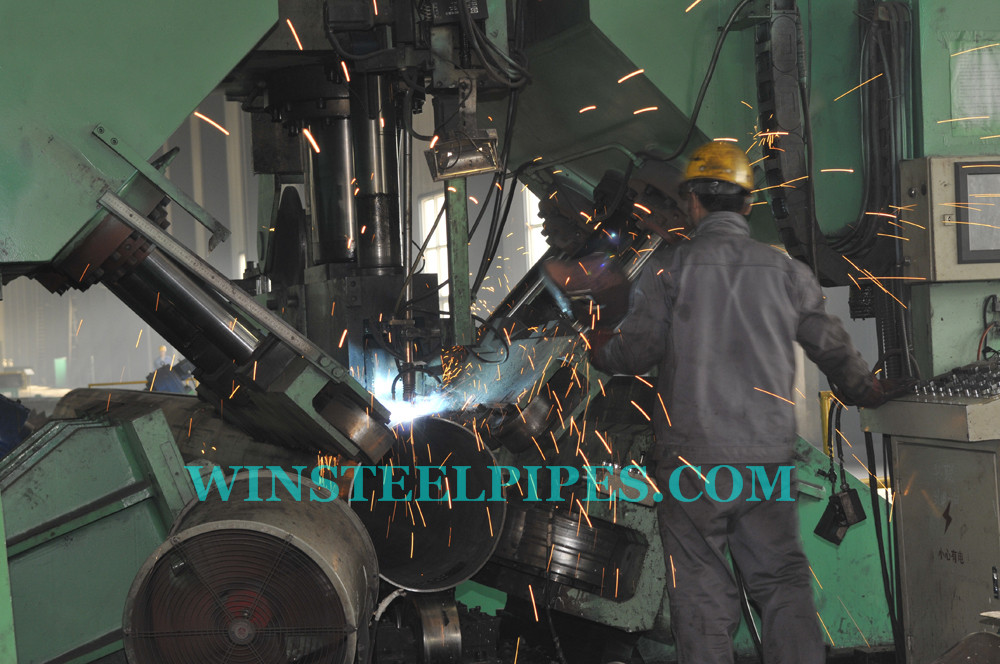 SSAW steel pipe's manufacture process is rolling the steel strip, to make the rolling direction have an angle with the direction of the pipe center, forming and welding. So the welding seam is in an spiral line.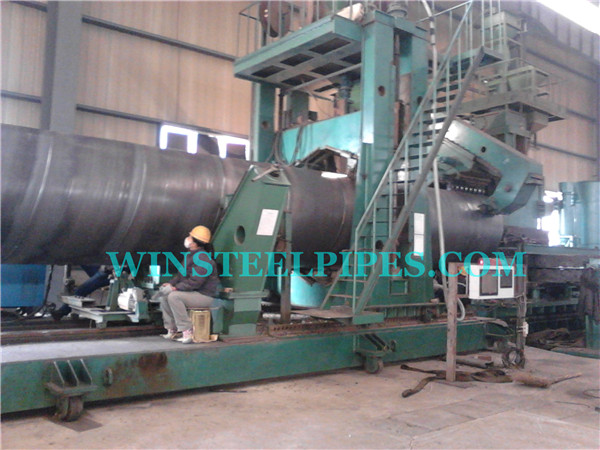 3) Different in length range :
LSAW steel pipes length range from 3 m to 15 m. Maximum length of LSAW steel pipe is 15 m. If you want longer it should choose T-Welded pipe.
SSAW steel pipe length can made to the end use of steel strip. The longest pipe I have seen and transport to Australia is 33.5 m SSAW steel pipe.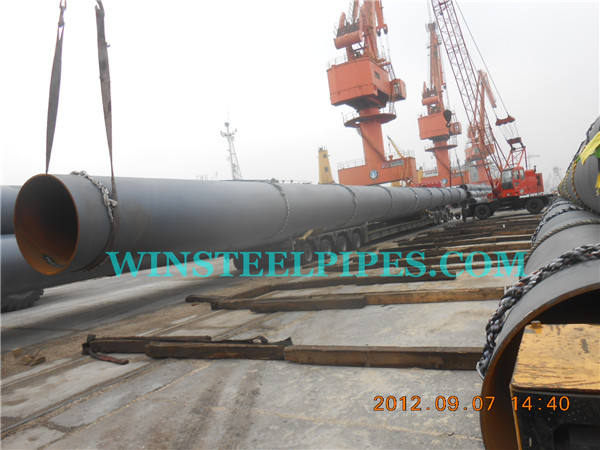 4) Different in size range and performances:
LSAW pipe's diameter range normally from 16 inch (406.4 mm) to 60 inch (1524.0 mm). Wall thickness from 6.0 mm to 30.0 mm. Good performances on high pressure resistance, and low-temperature corrosion resistance.
SSAW steel pipe diameter range is from 8 inch (219.1 mm) to 120 inch (3040.0 mm); Wall thickness from 5.0 mm to 25.0 mm.
The advantage part is we can get the different diameter of SSAW pipes with the same size of the steel strip, there is a wide application for the raw material steel strip. And welding seam of SSAW steel pipe should avoid the primary stress, good performances to bear the stress. The disadvantage is the bad physical dimension, welding seam length is longer than the pipe length, easy to cause the defects of cracks, air hole, cinder inclusion, partial welding, welding force in pulling status.
Thought SSAW steel pipet is using the same welding technology of Submerged Arc-Welding with LSAW steel pipes. Differently SSAW pipe is spiral welded where the LSAW is longitudinally welded.
5) Different application:
LSAW steel pipes has been widely applied in the oil and gas pipelines, specially required large diameter and thick wall pipe with high strength and long distance. Meanwhile in construction of structure that need tough strength, water treatment, thermal industry, bridge building, etc. According to API specifications, the LSAW pipe is specially designated in large scaled oil and gas transportation, in the cases that pipelines across the city, sea, and the urban area.
SSAW pipes used for oil and gas pipeline systems. But in petroleum design specification, the SSAW could only be applied in Construction structure, water transport and sewage treatment, thermal industry, building etc.
6) Different price:
For different use of the raw material, the price of LSAW is higher than SSAW steel pipe. But LSAW has better performance than SSAW steel pipe.
Want to know more? (Please email me)
Email: hannal123@163.com
My Phone: 15022081646