ISO 14001 Certificate
What is written on ISO 14001 Certificate ?
Certificate ISO 14001 Certificate
Environmental Management Systems Certificate
Certificate Number.: 00218E31669R0M
Hebei Allland Steel Pipe Manufacturing Co.,Ltd
United Social Credit: 911309216882033748
Domicile: No. 008. Government Road, Zhifangtou Industry Zone, Cang County, Cangzhou City, Hebei China
Certification add: No. 008. Government Road, Zhifangtou Industry Zone, Cang County, Cangzhou City, Hebei P.R. China (061026)
Has implemented and maintains a Environmental Management System which fulfils the requirements of the following standards
GB/T24001-2004/ISO 14001:2015 Environmental management systems-Requirements with guidance for use
This certificate is valid to the following product(s)/service:
Production and related management activities of A1 level straight seam submerged are welding steel pipe
Issued on: 2018-06-15
Effective date: 2018-06-15
Validity Date: 2021-06-14
Registration Number: CQM-13-2012-0025-0002
The validity of the certificate can be checked on www.cnca.gov.cn, Certificate confirmation and CQM website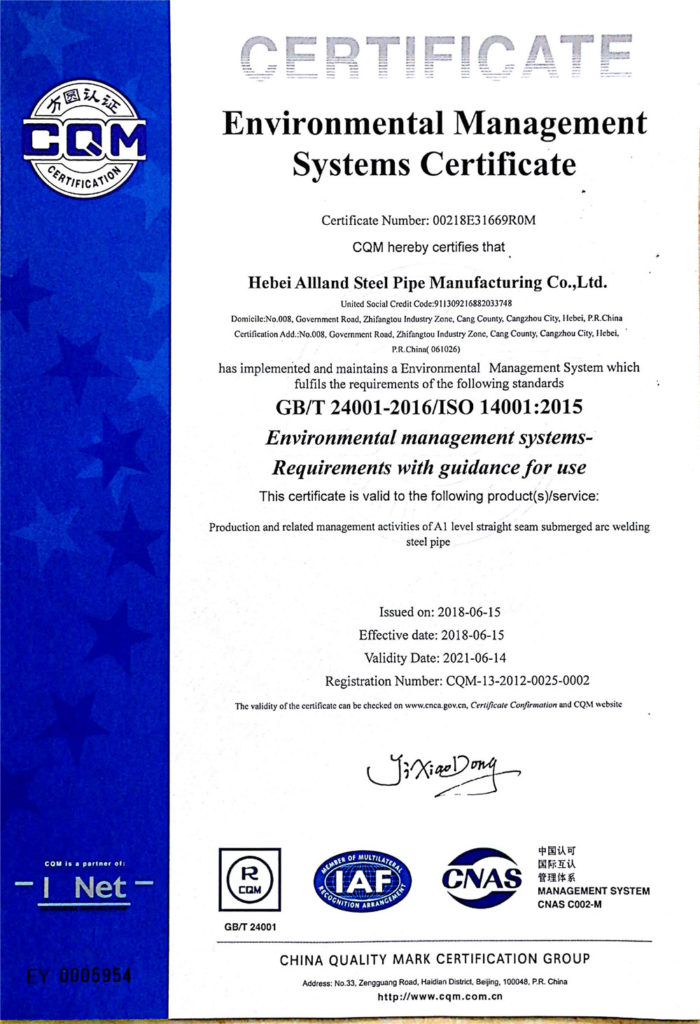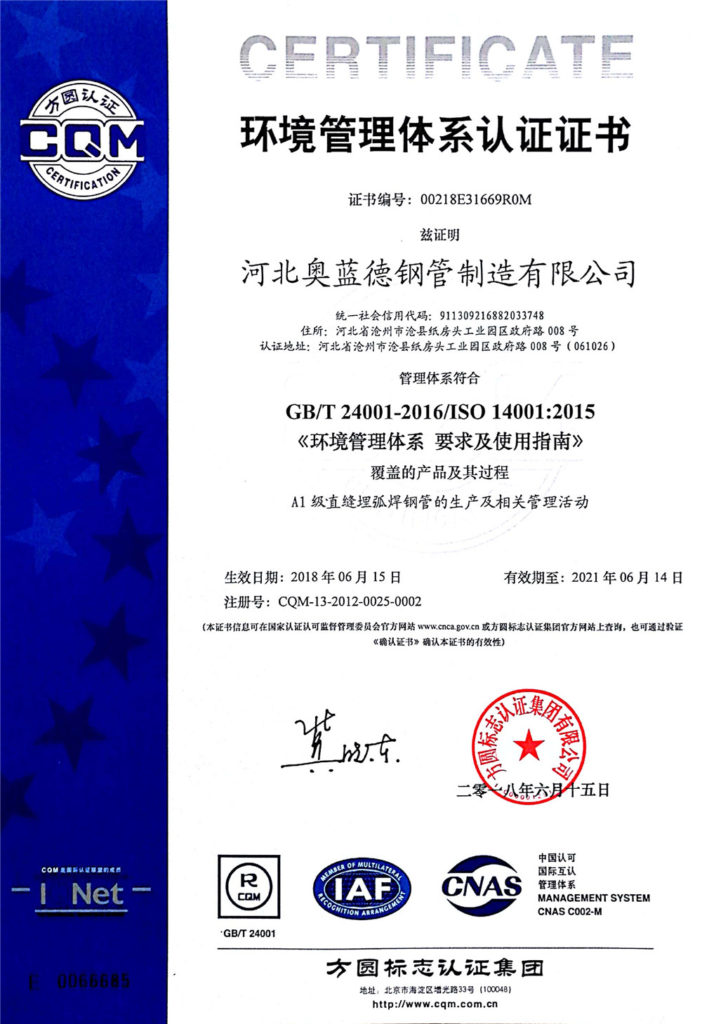 What is ISO 14001 Certificate?
ISO 14001 is an international standard designing and implementing an environmental management system. This standard published by ISO that accepted by worldwide. ISO stand for International Organization for Standardization. an international body that creates and distributes standards
The latest version of the environmental management system requirements published in 3 years ago. It referred to as "ISO 14001:2015."
This standard agreed upon by a majority countries before it released and updated. And it has become an recognized standard accepted by majority countries around the world.
ISO 14001 Certificate is very important for our company.
Two of the most important challenges we must face today. One is taking care of our enbironment. And another one is preventing our companies from casing negative impacts on environment. One of the biggest benefits of implementing an EMS is the recognition that comes with being among those businesses that care enough to reduce their environmental footprint.
We hope this can bring better relationships with our customers. We hope we can do good for the public. And benefits the community at large for our company, but it also brings other benefits as well.
Our company would like give a good public image. And we also like to save money through the  implementation of an EMS.
This can achieved through reducing incidents that can result in liability costs. Being able to get insurance at a more reasonable cost. And conserving input materials and energy through reduction efforts. This improvement in cost control is a benefit that cannot overlooked when making the decision to follow EMS.
Winsteel Group Co.,Ltd together with Hebei Allland Steel Pipe Manufacturing Co.,Ltd will do our best to manufactur high quality longitudinal arc welded steel pipe for pipe users. We also have API 5L certificate, ISO 9001 certificate, OHSAS 18001 certificate, and EN 10219 certificate and etc.
Want to know more? (Please email me)
Email: hannal123@163.com
My Phone: 15022081646